Amazon launched its most awaited Amazon prime Video India online streaming service. If you love watching videos online, then this application is going to very helpful for you. This application contains all sorts of video content like movies, video song and other TV shows. Amazon prime Video India is accessible on your phones or on a PC. Before you can get all sorts of video content in Netflix and Hotstar but now this amazing application from Amazon is definitely going to give a good competition to those applications.
If you want to get this premium service, for now, Amazon is providing this service in very cheap price which is only Rs.42 per month and Rs 499 per year. It will hike to Rs 999 to next year. The monthly package will increase to Rs 84 per month which is quite cheaper than Hotstar.  Netflix and Hotstar are providing the same service at a high price like Rs 500 and Rs 199 per month.
It's true that the popularity always depends upon the best video content but you can see a high standard competition between these applications in future. Amazon has said that for the Indian users it is going to provide so many new contents. It provides 3 days free trial offer for the beginners those who will sign up for the prime membership. Customers can visit the primevideo.com for the Amazon prime video India App.
Content You are Getting with Amazon Prime Video India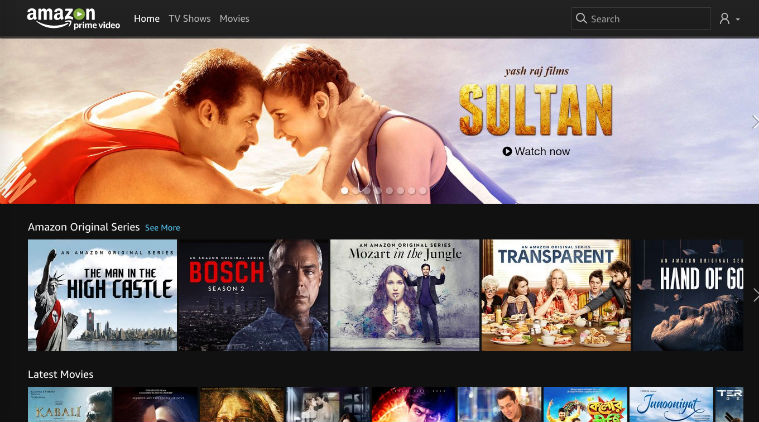 You can get different genres for the movie list in this great application which is like action, adventure, drama, comedy, Bollywood, crime, thrillers, animated, horror and romance. You can also get various regional contents in different languages like English, Hindi, Telugu, Marathi, and Bengali. This is a very smart decision from the Amazon.
Amazon prime India app has begun its service with some amazing Bollywood movies like Sultan, Prem rattan Dhan paio, Fan, Razz, Kapoor & Sons and many others like Talaash, Rock on, Dil dhadakne do and fuckrey.
You can get some original video content like, The grand tour which is anchored by famous James May, Jeremy Clarkson and Richard  Hammond. In the list of original content you can also get TV series like transparent, good girls revolt, hand of God and many more. For the fan of Seinfeld show, this app contains the full series. For users, this app will provide you to fetch latest episodes from 2 broke girls, the good wife, the vampire diaries, mom, Nashville and many more.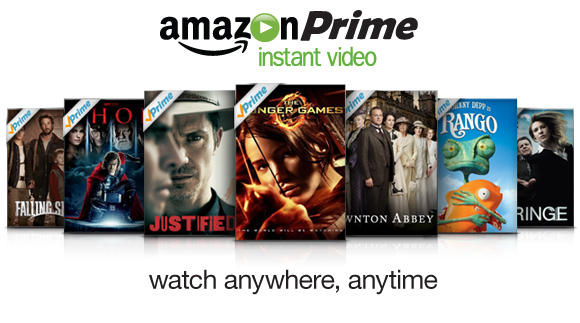 In this application, you can get one interesting feature which is Kids and family movie section. In this section, you can get various movies like Next Avengers, Himalayan Adventures, planet hulk and Sponge bob movie.
 This Amazon application will comprise various genres such a psychological thriller, action, mythological, sports, politics, and comedy.
It's true that Amazon is an e-commerce site but this app will definitely give a tough challenge to other video streaming apps because of its extra and amazing features. If you want to try this app just install this app and enjoy 30 days free trail experience for the better knowledge regarding this app.
Amazon Prime Video India vs Netflix vs Hotstar
Comparing Amazon Prime Video India and Netflix is like comparing Android with Iphone. Both have their own set of Features and benefit. Below are some key differences.
Platform availability
Netflix plans in India begin from Rs 500 onwards and with this basic plan you can watch one screen, with the standard plan option that offers two screens and with premium you can watch four screens. Whereas in Hostar, the charges are Rs.190 for international movies, shows or latest Hindi movies and offer you free streaming of TV content. However, when it comes to Amazon Prime, it members is not required to pay any extra charges for the Prime Video service. A member can watch the contents on three devices simultaneously. Amazon Prime Video, Netflix, and Hotstar all are available on Android and iOS apps, on the web browsers
Regional Content
Netflix's catalog is heavily loaded with English language content; you can find Hindi movies as well but the regional language content is quite limited and not well categorized.
Hotstar covers English, Hindi, Bengali, Tamil, Malayalam, Marathi, Telugu, Gujarati, Kannada languages contents. Hotstar is one of the best for regional content categorisation.
Currently, Amazon Prime Video covers Tamil, Marathi, Telugu, Bengali and of course Hindi. It does precisely demarcate the regional content, but not as well as Hotstar.
Offline options
The video consumers in India are heavy, but the bandwidth is still a question mark. Therefore the need for offline video viewing is overriding. Hotstar recently started its offline viewing feature earlier this year, followed by Amazon Prime Video and Netflix. Hotstar lets you download the limited videos whereas in Netflix and Prime video the download option is activated for most of the content.
Screenplay Options
In Netflix there is no option is available to change the streaming quality as the resolution of streaming depends upon the plan you have taken.  Whereas, the playback screen on Hotstar offers settings and display resizing options. However, in Amazon Prime Video, it has an interesting feature as IMDB integration into the app, which provides you a lot of knowledge about characters in a movie or TCV Show in real time as the video is playing.
Three benefits of Amazon Prime India
If you are going to activate Amazon prime India app then you will get 3 top benefits which are like:
Free shipping
Free 2-day delivery
Amazon instant video
These are three benefits of Amazon prime India for which most of the people are going for the subscription. These are some extraordinary features and benefits you can get from Amazon prime India subscription. These extra features and facilities will really help this app to become most popular among people. As you can get so many facilities from this application you can confidently go for the prime membership.